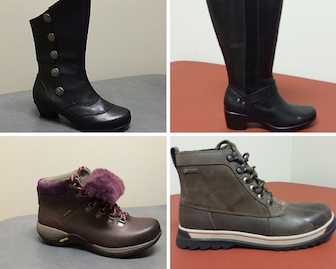 Know the difference between "water-resistant, " "water-repellent," and "water-proof" fabric when buying winter footwear – your feet will thank you for it!
• Water- Resistant fabrics shed water because of their weave or because they have been treated. They will soak through in a heavy rain, however. Water-resistant fabrics will often bead up rainwater, forming drops on the surface.  Water-resistant fabrics will provide protection from limited precipitation, but may not stand up to, say, belly-deep submersion in a mud puddle.  Though water can saturate the fabric with harsh exposure, a water-resistant treatment will prevent moisture from seeping through the fabric.
• Water- Repellent fabrics are more effective than water-resistant fabrics. They are either very tightly woven or coated with a finish that causes the water to make little beads when it hits the fabric rather than going through. The finish may wear off over time or come off if drycleaned. A silicone spray may rejuvenate the finish.
• Water-Proof fabrics can not be penetrated by water and should keep you dry, even in heavy rains. They may be extremely tightly woven, such as a fine polyester/nylon blend, rubber or plastic or other non-porous material, or coated with a finish that makes them breathable but closed to water. Certain waterproof fabrics contain a breathable membrane woven within the fabric, making them both waterproof and breathable.  Waterproof, breathable fabrics help regulate heat and release moisture, and are recommended for high energy activities to dissipate heat and moisture.
[divider style="default" color="#E7E7E7″]
Gore-Tex® is a thin membrane of microscopic pores that surrounds part of the shoe / boot and prevents external water from entering the shoe / boot while still allowing perspiration from the foot to escape. Gore-Tex® accomplishes this because water vapor from a foot's perspiration is smaller in size than external water droplets. Just remember that Gore-Tex® is not insulation and will not keep your foot warm in cold temperatures.
3M™ Thinsulate™ Insulation is used to help keep you warm when it's cold outside. The unique microfibers work by trapping air molecules between you and the outside. The more air a material traps in a given space' the better it insulates you from the cold outside air. Because the fibers in Thinsulate insulation are finer than the fibers used in most other synthetic or natural insulation' they trap more air in less space which makes Thinsulate insulation a better insulator.  Thinsulate is also extremely durable and won't break down due to getting wet.  Thinsulate is measured in grams per square meter of insulation. You will find boots with Thinsulate insulation that range from 100 gram insulation to 1000 gram insulation. The higher the number, the more Thinsulate is in the boot and the warmer the boot should be.  Thinsulate is moisture resistant and breathable.
Come on in to Soles in Motion, 133 Baker Drive, Suite 101, Dartmouth and see our great selection of winter footwear for all occasions.
[note color="#FFCC00″]- Written by Bruce Steeves, Soles in Motion Customer Service Representative[/note]